Services

Irrigation & Sprinklers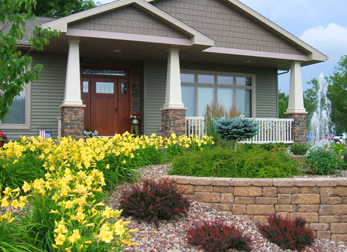 The landscaped areas of your property lend a very distinctive look to your property; when they are designed, installed and maintained well, you are more inclined to use these spaces and this provides you return on investment. However, aside from regular maintenance and care, a landscape also needs to be watered with regularity and it's important that you have the right kind of irrigation system installed in your yard and garden spaces.
We at Ziegler's Landscape by Design, LLC have are one of the leading landscaping companies in the region, and have handled a number of projects for customers in and around Onalaska, La Crosse, La Crescent and West Salem. Over the years, we have also successfully completed landscape irrigation projects for clients in and around Tomah, Trempealeau and Sparta. Our company has now built a strong customer base across Black River Falls, Winona as well as Arcadia.
In most instances, these installations are part and parcel of a larger landscape design and installation project; however, we also handle irrigation upgrade jobs. If you feel that your plants and trees aren't getting the right amount of water at the right times, we are the company to call. On board our team are two designers that have combined experience of 50 years. Irrigation design is a very crucial and integral part of any landscape design and these features are some of the first to be installed in the landscape.
Aspects of Yard Irrigation
Our Irrigation Installation Manager has a decade of Installation/Maintenance experience. This experience and expertise that our team has, ensures your landscaping gets the kind of garden and yard irrigation systems that will work perfectly for the kind of softscaping your property has. We have deep knowledge of all the aspects of irrigation design and installation and take a number of things into account when we are designing irrigation systems, such as:
The spread of the outdoor spaces
The size  of the softscaped areas
Types of plantings and trees
Amount of lawn spaces
The grading on the land
Possible additions to the landscaping in the future
Type of systems- automated or manual
Your ideas and preferences
Your budget
Our expert horticulturists know the watering requirements of different plants and trees and the garden irrigation system will be designed with this aspect in view as well. In fact, when we handle the entire landscape design and installation project for you, we plan the plants and other softscaping based on their specific watering needs.
Types of Irrigation Systems
To a certain degree, this simplifies the planning of the irrigation systems and helps conserve water as well. The different types of irrigation systems and accessories we may install as part of a landscape irrigation design and installation project are:
Automatic/manual sprinklers
Drip irrigation systems,
Soaker hoses
Rain sensors
Other
When you want services that are customized to your needs at a landscape irrigation cost that fits perfectly into your budget, you need look no further than Ziegler's Landscape by Design, LLC. Feel free to call us at this number- (608) 783-1095, and discuss your project details with our experts. You can also send us your queries via this
online form
.
Contact Us