Services

Retaining Walls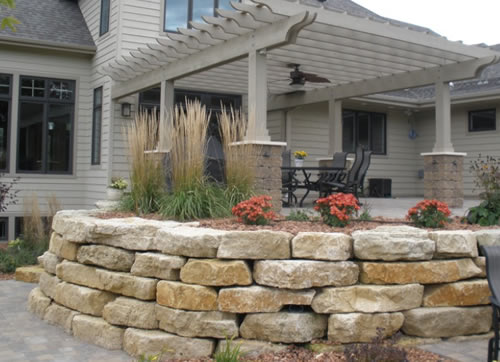 When you are getting any landscaping work done on your property or are getting an outdoor installation like a driveway, outdoor kitchen, patio or deck installed, you need to ensure that the ground at that place is levelled well. If there is sloping land or if the grading isn't right, the land would have to be excavated to a certain point. This also leaves a large portion of the rock and soil exposed, which can eventually result in a mudslide. These are the points at which retaining walls have to be built.
We at Ziegler's Landscape by Design, LLC are reputed company in the landscaping space and have handled a number of projects for customers in and around Onalaska, La Crosse, La Crescent and West Salem. Over the years, we have also successfully completed retaining wall projects for clients in and around Tomah, Trempealeau and Sparta. Our company has now built a strong customer base across Black River Falls, Winona as well as Arcadia. We have a great deal of experience in the field and know exactly how these retaining walls have to be designed and built.
Retaining Wall Materials
In most instances these walls are constructed using CMUs or concrete masonry units. These are modular blocks that can be used to build walls of any length and height. The concrete surfaces can be clad with stone or brick veneer to give them the appearance of these materials and improve their aesthetic appeal. Aside from this, natural stone, brick, wood and mortar may be used in the retaining walls.
Retaining Wall Design
We custom design retaining walls based on where they have to be installed. In some instances, we also design dual function retaining walls that have in-built seating or planters incorporated into the structure. These walls can be built along the periphery of patios, decks and fireplace or fire pit areas. They prevent the surrounding soil from getting eroded and provide sufficient seating space as well. We can also include recessed lighting elements into the design.
Retaining Wall Installation
The installation of these walls is a very specialized job and it's important to have skilled and experienced professionals handle the job for you.  We use the best materials in the work and deploy skilled masons for the installation. This helps ensure the structures will be solid and long lasting. 
We work very closely with you to understand what your requirements are and then provide solutions that work perfectly for you. We are focused on providing custom services and personalized attention and ensure that the job is completed within the stipulated time frame. Our skilled personnel ensure that the work site is left neat and clean at the end of every work day and that the project progresses with the least amount of disturbance to the activities on your property.
When you want services that are customized to your needs at a retaining wall cost that fits perfectly into your budget, you need look no further than Ziegler's Landscape by Design, LLC. Feel free to call us at this number- (608) 783-1095, and discuss your project details with our experts. You can also send us your queries via this
online form
.
Contact Us