Services

Paver Installation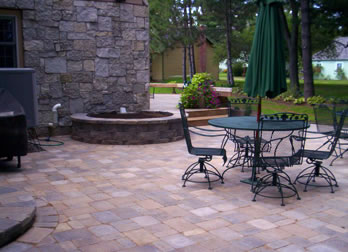 The outdoor areas on your property are constantly subjected to a significant amount of wear and tear. And when you are getting these designed and installed you want to make sure that the features would be able to withstand inclement weather and regular foot traffic. In the case of installations such as driveways, these surfaces have to endure vehicular traffic too. This is why it becomes very important to choose your materials with care and pavers become a smart choice for most outdoor installations.
We at Ziegler's Landscape by Design, LLC are one of the front-running companies in this field and have handled a number of projects for customers in and around Onalaska, La Crosse, La Crescent and West Salem. Over the years, we have also successfully completed paver installation projects for clients in and around Tomah, Trempealeau and Sparta. Our company has now built a strong customer base across Black River Falls, Winona as well as Arcadia.
Types of Paver Stones
We handle start to end landscape design and installation jobs and paver installation is a very important aspect of most of our projects. You can choose from natural stone, concrete or brick pavers and all of these are available in a variety of colors, shapes, design and styling. Our experts will provide you all the information you need about these different pavers and this helps you make a more well-informed choice.
Once you have made your choice of paver stones, we source high-grade materials of reputed brands. While using good quality products is important, it's even more important to ensure that the actual installation is handled well.  That helps increase the strength, integrity, resilience and longevity of the feature.
Paver Installation Process
We are extremely particular about handling yard paver installation in an expert manner and follow a very meticulous process:
The surface that has to be paved will be excavated and graded as required.
Sand will be poured on this leveled surface and a compacting machine will be used to pack the sand tightly on the surface.
The leveling will be checked once again.
All the paver stones will be installed methodically. In some cases, our clients want the pavers to be set in a certain pattern, using different colored units and we handle those requirements expertly too.
Once all the pavers have been set in place, we will install the edging to hold the pavers in place.
Some clients also want us to sand and seal the pavers; our personnel have the knowledge and experience to handle that as well.  Sealing pavers is the best way to make them stain-resistant and the seal-coating protects them from scratches and dust.
When you want services that are customized to your needs at a paver installation cost that fits perfectly into your budget, you need look no further than Ziegler's Landscape by Design, LLC. Feel free to call us at this number- (608) 783-1095, and discuss your project details with our experts. You can also send us your queries via this
online form
.
Contact Us