Services

Arlan Ziegler
Our Mission: We will give a 100% effort each day to remain the Landscape Industry Leader in the LaCrosse Region. We will constantly exceed the expectations of our clients and create a landscape which will give them a lifetime of Value and Beauty.
Ziegler's Landscape by Design, LLC. is a Full Service Landscape, Maintenance and Irrigation Company located in Onalaska, WI.
We currently have 2 designers on staff with a combined 50 years of Landscape Design/Installation experience.
Our Lead Landscape Foreman have Associate Degrees in Horticulture and our Irrigation Installation Manager has 10 years of Installation/Maintenance experience.
We are now proud to offer a full service lawn care program! Our licensed technician can keep your lawn green and weed free. Give us a call to discuss our 5 step program and to sign up for a free estimate.
We provide the following Landscape Services:
Landscape Design
Pavers
Paver Installation
Paving Stones
Retaining Walls
Landscape Lighting

Walkways
Driveways
Patios
Interlocking Paving
Landscaping
Irrigation Installation
We provide the following Maintenance Services:
Mowing
Lawn Care Program
Pruning
Irrigation Maintenance/Trouble-Shooting
Snow Removal
Spring + Fall cleanups
Our Service Area Includes the following Counties:
In Wisconsin:

La Crosse
Vernon
Monroe
Jackson
Trempealeau
Buffalo

In Minnesota: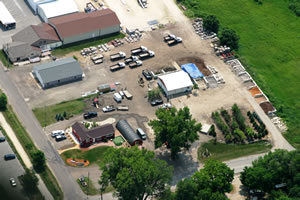 Ziegler's Landscape By Design Offices and Yard
W7069 County Road ZN
Onalaska, WI 54650
HELPFUL LINKS

---
HORTICULTURAL INFO:

University of Wisconsin Extension Service
This site contains good horticultural information on a wide range of frequently asked questions on home landscapes.
University of Minnesota Extension Service
This site contains information on plant material, plant disease and insects. It has a good supply of current information.
MAINTENANCE INFO:

Care for Brick Paving
A few easy tips for some of the common problems in brick paving.
Pruning Perennials
A comprehensive guide to help you take care of your perennials to make them look there best.
Plant Care for the Homeowner
A step-by-step look at pruning and maintaining shrubs and trees.
Watering Tips
A little watering can go a long way.
ASSOCIATIONS & SOCIETIES:

Minnesota Nursery and Landscape Association
The MNLA is a great regional landscape source.
ASLA - American Society of Landscape Architects
What is a Landscape Architect? Find out what projects Landscape Architects are involved in and how they can better our quality of life.
The National Arbor Day Foundation
This is the best resource for tree information in and around your community and home.
GREEN INDUSTRY SITES:

Color With Plants
Bailey Nurserie's Website
The Hosta Photo Library
Find your favorite hosta here.
HARDSCAPE PRODUCTS:

Versa-Lok Midwest
Providing landscape architects, contractors, and homeowners with the highest-quality products in the industry.
Willow Creek Paving Stones
Unilock
AREA LINKS:

La Crosse Area Information
This contains links to local La Crosse websites and businesses.
City of La Crosse - Official Website
Keep informed with the La Crosse community.
Coulee Region Links
Contains a wider range of area links.
Contact Us