Services

Retaining Walls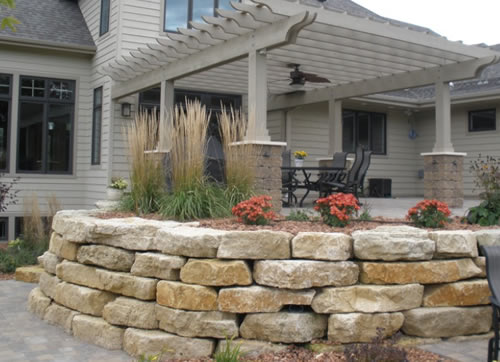 Retaining walls make properties safe from soil erosion, flooding, and other hazards. These structures are effective in holding large amount of soil in properties with slope areas. They are not only needed in residential properties but also in commercial, industrial, and even public areas. Aside from the main function of a retaining wall, it is also used to enhance the aesthetic appeal of the area. In homes, they are commonly used to uplift the beauty of garden areas. Some property owners in Wisconsin even use these walls to create new functional spaces. These spaces are then turned into outdoor living areas.
Since retaining walls are masonry structures, they have to be built by licensed and properly trained people or contractor. A well-experienced contractor like us at Ziegler's Landscape By Design can design and install different types of retaining wall systems. From cantilevered to gravity walls, we have the skills and capabilities to build them. You can learn more about our retaining wall installation services by calling us at (608) 783-1095.
Retaining Wall Blocks
Wall blocks are the primary materials used for retaining wall construction. As a property owner, you should source the retaining wall blocks from reputable suppliers or manufacturers. Leading wall block manufacturers add innovative product features to ensure the structural integrity of their retaining wall system. One popular design is the segmental retaining wall system. This design allows easy installation of each block unit and flexibility in the size, height, and style of the walls.
Concrete Blocks
The use of concrete blocks is also a great option for your wall. These concrete masonry units are proven tough and durable, which makes them the best materials for large and tall retaining walls. You don't have to worry about the aesthetic aspect since you can use decorative methods to enhance the look of your concrete block walls. An experienced contractor may use stamping technique and other masonry finishes that will mimic the look of bricks, natural stones, and other types of materials. This type of retaining wall is best used for hilly areas since it can handle the extreme lateral pressure of the soil. Most properties in Onalaska, La Grosse, La Crescent, West Salem, Arcadia, and surrounding areas have these types of walls.
Building a Retaining Wall
What are the things you must consider when building a retaining wall? First, you have to determine its primary function. Is it needed for aesthetics, safety, or functionality? You must also consider the existing features and structures in the landscape or outdoor area. Some of these structures may affect the design and style of your retaining walls. If the overall theme of your landscape is European, then the use of wall blocks with Old World design is your best option.
Retaining Wall Design
The resiliency of your retaining walls largely depends on how they are designed and built. The retaining wall design should complement well with the existing outdoor amenities and your home's architectural style. If you don't want straight walls, your contractor may suggest other designs such as curve, tiered, and free-form.
Block Wall
Your landscape will look more appealing if there are hardscape features such as retaining walls. But do not opt for the traditional poured concrete walls since there are better alternatives. A block wall will not only offer aesthetic benefits but also the specific functions you need. The use of premium quality blocks will also ensure the reliability of the entire retaining wall.
MORE ARTICLES
Contact Us