Services

Landscape Design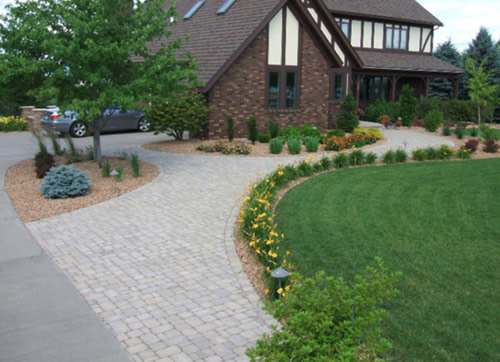 Do you want to increase the value of your property by as much as 20 percent? A well-executed landscape design might be what you need. No matter how small or simple your yard is, landscaping can dramatically transform it and add more aesthetic appeal to your home. A research by Money Magazine states that a properly installed landscape boosts a property's appeal to buyers, speeds up sale time frame and brings 100 to 200 percent recovery value at selling time. Landscaping also contributes to good health by filtering pollutants in the air, reducing stress levels and promoting a more active lifestyle. It adds beautiful foliage to your outdoor space that serves as home to small animals and keeps the soil in good condition.
Choosing from a wide array of landscape elements can be an intimidating task. You can rely on the expertise of professional landscape designers us at Ziegler's Landscape By Design to guide you in choosing the right design elements and help you achieve the functionality you want for your outdoor space. You can browse our impressive portfolio to see how we design beautiful landscapes. Call (608) 783-1095 to set an appointment with one of our landscape design experts.
Landscaping Ideas
A professional landscape designer uses different landscaping ideas and features to contribute to the overall function of the garden space. Choose a designer who is up-to-date with the innovative use of simple landscape elements like flowers, shrubs, and water features. He must be knowledgeable about the functions and purpose of other outdoor installations like patios, decks, and pergolas.
Garden Design
The only limit to your garden design is your imagination. Some garden designs use natural stones and water features to create soothing focal points in the garden. Aesthetically arranged rocks with plant accents, ponds and fountains are refreshing additions that give a comforting, relaxed vibe. Some of the newer trends in garden design include color blocking (use of distinct blocks of color), hyperlocalism (use of native and endemic plants), and natural dye gardens.
Patio Design
A good patio design balances the foliage elements with hardscapes such as pergolas and arbors. Skilled contractors not only add outdoor installations for their aesthetic and practical functions but also use them to blend and complement with the garden elements like vines and flower gardens. Many of the gorgeous patio installations that you see in Onalaska, La Grosse, Trempealeau, Sparta, and Arcadia are the handiworks of professional landscape design firms.
Landscape Designer
Choosing the right contractor is important to achieve your dream landscape design. The company must have impeccable credentials that include education and experience in the field of landscaping. You should also look at its affiliations, certifications, and licenses. Gather feedback from their previous clients about their experience. With our extensive experience as a landscape designer, we can also provide clients with beautifully designed landscapes.
Landscape Architect
A landscape architect merges design and technical aspects to landscaping. Hiring one incurs additional expense but having a well-thought-out output is worth more than the extra cost in the long run. With years of professional training, landscape architects provide a comprehensive take on the landscape project including budget creation, determining the right plant types for your location and preferred function, and much more.
MORE ARTICLES
Contact Us