Services

Paver Installation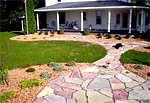 There are different ways to enhance the aesthetic appeal of residential and commercial properties. One way is to install a new landscaping with beautiful flower gardens and water features. Another option is to add permanent features that will not only improve the appeal of the outdoor area but also enhance its functionality. Some masonry features that one can add to his or her property are patios, pool decks, driveways, and garden paths. These features are best designed using finely selected pavers. But please take note that achieving a stunningly beautiful outdoor setting is not an easy task. You need the help of experienced paver installation firm to accomplish this goal.
Professional installers like us at Ziegler's Landscape By Design know the right paver installation methods and the right design combination that will make your property a standout in your neighborhood. If you are planning or currently working on an outdoor improvement project, we can share to you our expertise and experience in this field. Call us at (608) 783-1095 and we'll discuss to you our range of services.   
Installing Pavers
Installing pavers is a tough job that requires in-depth knowledge of the characteristics of each paver type. You should also learn the right installation techniques and methods to ensure the structural stability of the paver amenities. The most common types of pavers that you can use for your patios or driveways are clay bricks, concrete pavers, and stone pavers. They are available in various sizes, colors, patterns, and finishes, so you have a wide range of design options.
How to Install Pavers
If you are really determined to learn how to install pavers on your driveway, patio or pool deck, you must study carefully the paver installation process. All the stages in the installation process must be done accurately and according to industry standards. Failure on your part to follow any of the recommended procedures will result in unstable paver structure. It could lead to cracking and settling of pavers. You can avoid this scenario by just hiring professional paver contractors.
Installing Patio Pavers
A patio is always the top choice of Wisconsin homeowners. This outdoor amenity is a cost-effective addition in residential properties since it can be built using a small budget. You can even save some dollars if you do the paver installation in a DIY manner. The most important factor to consider when installing patio pavers is the quality of the materials you use. Make sure that your chosen brands are proven durable and long-lasting. 
Installing Brick Pavers
There are still a lot of property owners in Onalaska, La Grosse, La Crescent, West Salem, Winona and surrounding areas who prefer the use of brick pavers on their properties. This is not surprising since bricks have a classic and natural appeal that can easily transform a drab outdoor area into an attractive space. Installing brick pavers on your patio, driveway or deck area is also an excellent option since these pavers are proven durable. You can also choose from a wide range of designs, color tones, and finishes.
Paver Installers
As mentioned, paver installation is a tough job that must be handled by experienced and properly trained people. Instead of doing the job in a DIY way, it is best to hire professional paver installers. Licensed contractors have the resources, experience, and required know-how to build your desired paver features and amenities.
MORE ARTICLES
Contact Us